Being a NROC (National Registrar of Coach), NCAP (National Coaching Accreditation Program), Swim Safer as well as SSPA (Singapore Swimming Proficiency Award) registered coach, Larry has 10 years of coaching experience of both beginner and competitive lessons under his belt.
Through his patience and guidance, hundreds of students grasped and learned swimming.
Besides being a National Sailor representing Singapore for 4 years under the BYTE and 420 class, he was also part of NanYang Polytechnics school team from 2005 to 2007.
He was also a licensed lifeguard under the Singapore Sports Council for 6 years, where he gained many real life experiences of emergencies, which he imparts to his students.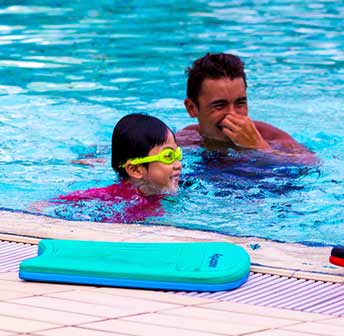 Being the Swim Team Captain of Nanyang Polytechnic for 3 years (2005 - 2007), Hanrong received the prestigious NYAA (National Youth Achievement Award) from then Singapore President SR Nathan in 2007.
He was also a member of SSA (Singapore Swimming Association) as a competitive swimming representative and has won numerous swimming competitions.
As his Swimming career progressed, he have been a swimming coach for 11 years, conducting courses for both beginners and competitive swimmers. More than 1000 students have since graduated under his guidance.
He is an NROC, NCAP, SSPA, Swim Safer accredited coach.
Senior Coach Zulkefli Bin Ramly
Coach Zul is extremely experienced with 30 years of coaching and also the lead coach for Lifesaving courses in Ace Dolphin. He is a qualified lifesaving Instructor and Examiner. He mentored Head Coach Larry whom eventually graduated from lifesaving under his guidance. With his experience serving as a coach in reputable competitive swimming clubs, and a qualified trainer in CPR and AED, Coach Zul is well liked by kids.
In Addition, he had also served 35 years with Sports Singapore as a Lifeguard.
Coach Louis has more than 20 years of experience in coaching. He was the Head coach of Nanyang Polytechnic Waterpolo team, former coach of SSA Nationals age group, qualified FINA Waterpolo official. With his experience in coaching at the national level made him a very important coach at Ace dolphin.
His emphasis on fundamental training ensured that his students will also be able to fulfill their maximum potential or further.
Coach mike has more than 10 years of teaching experience. Coming from a family of swimmers and coaches, he is deeply rooted in the swimming circle from a very young age.
Coach Mike was a core member of the Temasek Polytechnic swim team and life saving team in his school days.
Mike is extremely patient and good with young children. His ability to conduct fun lessons while maintaining discipline made him a favorite among parents and students.
Coach Albert has 10 years of teaching experience. He is specially trained to teach the young beginners. His patience and ability to handle young kids made him a valuable asset to the school.
Coach Albert previously served as a lifeguard at Tampines SAFRA for more than 10 years. Safety of students is always his utmost priority.
Coach Gary has more than 15 years of teaching experience. He was a national swimmer in SEA games for Team Singapore in the year 2000. He was also in the Singapore national lifesaving team and Temasek Polytechnic swim team from year 2005 to 2008. With his experience in numerous competitions, he is well-versed in stroke corrections, stamina strength and speed training.

Coach Raymond has been teaching for more than 10 years in numerous clubs and organisations, including serving as leading coach in a prestigious school. He has taken courses with AUSTSWIM and ASCA to further home his coaching skills.
With His ability to impart knowledge to the students in a fun way, students always enjoys the class. He is very well received among parents and students.
Coach Adelyn has been teaching for more than 10 years. Her coaching skills was honed in a famous training school.
She is able to connect with young kids in the shortest time, while maintaining discipline and safety. Young students always enjoys her classes. She is well received among parents and students for her cheerful character.